What Are Compression Socks?
Compression socks look just like regular socks but with a tighter fit that places gentle pressure on your legs. Compressions socks help promote better blood circulation and can be a key factor in helping to reverse the effects of venous disease.
Who needs Compression Socks?
Contrary to popular belief, compression socks aren't just for the elderly. Many people with different types of health concerns can benefit from compressions socks. In some cases, there can be genetic predisposition for Venous disease however, circulation problems can also be experienced by pregnant women, those suffering diabetes or obesity, individuals who live a sedentary lifestyle or spend a lot of time sitting. Even athletes often use them to aid in their performance.
Facts About Venous Disease
Venous Disease Affects up to
40%
of the adult population worldwide
Our vascular system contains valves that prevent the blood from flowing backwards. When these valves don't work properly, circulation problems occur that can eventually lead to venous disease.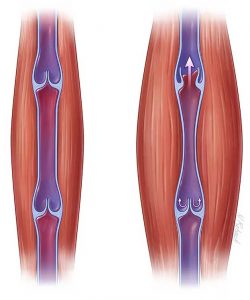 Complications of Venous Disease
Spider Veins: Small veins visible through the skin of your legs that appear red of blue.
Varicose Veins: Enlarged veins, clearly visible under your skin, and twisted or bulging. Usually painless, sometimes they can hurt, itch, or burn. They are caused by the pooling of blood in a damaged vein.
Swollen Legs: Edema (swollen legs) is defined as a significant increase in the volume of fluid in the skin. Venous edema usually occurs in the ankle region, but it may extend to the leg and foot.
Leg Ulcer: Venous ulcers are unhealed sort or open wounds on the legs. They are a severe consequence of venous disease.
Deep Vein Thrombosis (DVT): DVT is a serious condition in which a blood clot forms in the deep veins of the leg that block the blood flow. As a consequence, the clot can circulate and cause a pulmonary embolism.
The Sigvaris Solution
Sigvaris offers a wide range of attractive compression socks to help you combat the effects of venous disease. Sigvaris socks come in many colors and patterns to compliment your attire. Only you will know you're wearing them.
Energizing and Stylish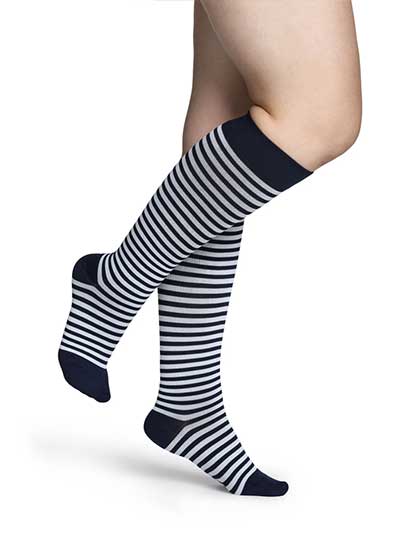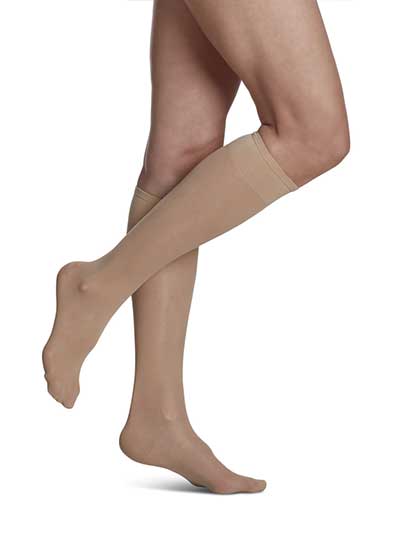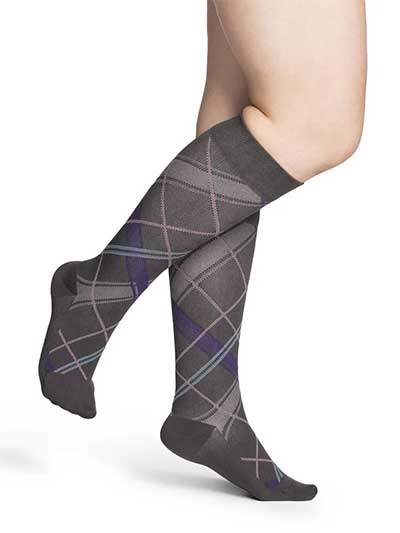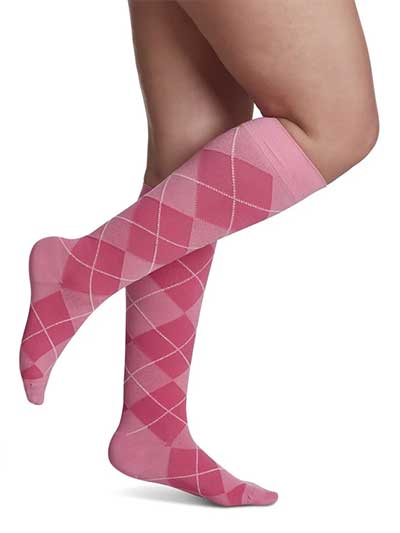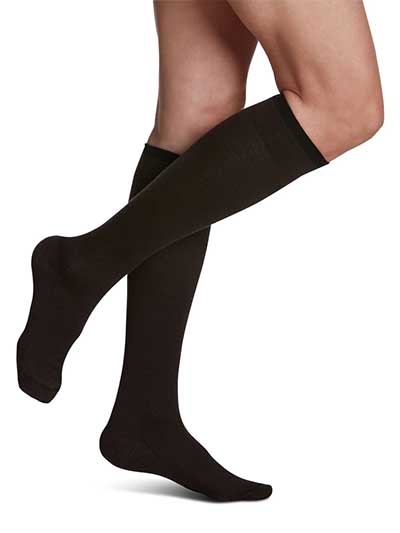 Also available in wool, linen, cotton or sheer. We have socks, leggings, thigh-highs, and pantyhose.
Graduated Compression Socks
Graduated compression acts as an external layer of muscle by gently squeezing the weakened vein and encourages normal blood flow. The pressure is higher at the ankle and decreases as it goes up your leg.
Revitalize legs
Minimize risk of developing a venous disorder
Prevent blood pooling
Reduce selling
Relieve symptoms of the venous disorder
Prevent formation of spider or varicose veins
Order yours Today
At Emeryville chiropractic, we can order the Sigvaris Compression socks that are right for you. We'll suggest the right compression, size and appropriate style to help you with your circulation problems. You can choose the colors and patterns that will compliment your lifestyle.